NOTICE: Due to the C19 virus, Food Pantry hours and procedures have changed. Until further notice the Pantry will be open Wed & Fri only, from 10am-12pm.
All persons must wear a mask to enter the Food Pantry.
Motivated by Christ's love, the North Pres Food Pantry continues Christ's work by feeding the unemployed, the working poor, the elderly, and the physically and mentally challenged in Elmira zip codes of 14901, 14904, and 14905. We strive to foster a caring atmosphere and treat each person with dignity and care about each one as an individual. We are dedicated to maintaining a continuous growth in services to assist our clients to improve their quality of life. It is our hope that those who receive food will be strengthened in body and soul.
The North Presbyterian Church Food Pantry was started by the pastor Rev. James Collea and his wife. They started by handing food out from their own cupboard. A short time later, the people of North Pres Church wanted to help. A cupboard at the church was filled to hand out food supplies to those in need. In 1984 the Food Pantry became an agency of the Food Bank of the Southern Tier. This allows the Food Pantry to serve more people and to increase the allotment of food given to individual households. The pantry has grown from a cupboard to a large room with a refrigerator, freezers, aisles of shelves, and many larger cupboards. Our Pantry Patch Garden provides fresh vegetables in season. The pantry also has clothing and books available to clients.
The NPC Food Pantry is not funded by the church budget. Monetary and individual food collection donations come from individuals and groups within our church and our community. We rely solely on those donations.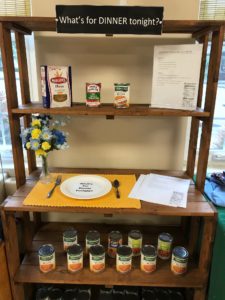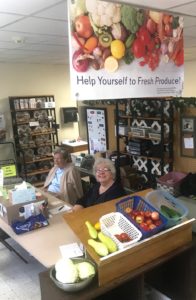 If you haven't visited the Food Pantry in a while, you might be surprised by the changes. The Food Bank has brought the Healthy Pantry Initiative (HPI) to North Pres.
HPI is a program designed to encourage pantry shoppers to choose healthier foods. Elisa Rocks, a Food Bank nutritionist, is working with our pantry to make changes that increase the amount of healthy food being offered, and "nudge" pantry shoppers to choose those foods.
So far, the changes seem to be working.
Fresh produce – purchased, donated or grown in our own garden – has been flying off the counter. The "What's For Dinner Tonight?" shelf offers recipes that use staples available at the pantry. Shoppers are taking those recipes, and others loaded in a handy recipe rack nearby. New signage helps shoppers keep track of what is available in the various food groups – fruits, vegetables, proteins, dairy and grains.
The future may include a special section devoted to those with diabetes or who need gluten-free food. Free blood pressure screenings and cooking classes also are being considered.
Please stop by and see "your" food pantry. Visitors are always welcome!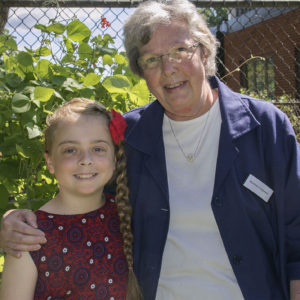 On Sunday, August 7, 2016 Jeff Richards and Marlene Carpentier had the pleasure of meeting Cassidy Tryon, the winner of Chopped Junior. Cassidy is twelve years old and going into the eighth grade in Horseheads. For winning this season, Cassidy received $10,000 and a Chopped Junior jacket. She kept $9,000 for college and gave $1,000 to the North Pres Food Pantry.
Cassidy has had a great deal of experience cooking at home with her mother and grandmother but not with the odd ingredients she was given on the TV program.
The first basket the contestants were given contained hand pulled noodles, pickled Daikon radish, century eggs and alligator to make an appetizer. (The century eggs are not 100 years old. They are preserved over weeks to months and have a bad odor.) The second basket for an entrée contained pork cutlet, cornucopia of baby vegetables, mango and fish and chip snack mix. The third and last basket the students were to make a dessert out of Cashew cheese, sparkling apple cider, lychees and Kiwi Turtle Cake. The contestants were given 30 minutes to cook each basket of food.
Cassidy hopes to go to Cornell and later open a bed and breakfast and do equine physical therapy. Our Pantry gives a big thank you to Cassidy for her generosity to our pantry.